Limited Express Revaty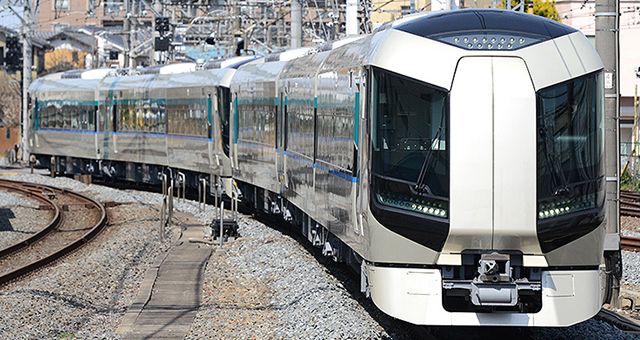 The "Limited Express Revaty" is a nickname of the limited express 500 series train that operates seamlessly through Tobu Railway's extensive network through separating and linking cars and serving customers with different destinations. Free wi-fi connection is available onboard, with power outlets equipped on each seat. Seat tables make laptop and smartphone use easier.
Seat map
Onboard facilities
SeatsAll seats are large swivel recliner type. You can turn a pair of seats backward to face the seats behind. "Edo-murasaki," a traditional color in the Edo period, is the color of theme of the seats, with traditional Edo "inden" craft patterns designed on the sleeves.

Wi-Fi, power outlets, accessibility featuresWi-fi connection is available in the train, with power outlets equipped on each seat. Cars also have AED and medical support equipment, as well as seats available for customers using wheelchairs.

Wheelchair-accessible and ostomy toiletA wheelchair-accessible and ostomy toilet is available in Car No. 2.

Environmentally conscious designEquipped with the high-efficiency permanent magnet synchronous motor (PMSM), the train reduced overall environmental impact by also using aluminum to reduce weight and installing LED headlights and interior lighting to reduce power consumption.
Stations stopped by Limited Express Revaty
Revaty Kegon, Revaty Kinu, Revaty Aizu

Revaty Ryomo

SKYTREE Liner

UBRAN PARK Liner
Important notes
All seats are reserved.
All seats are non-smoking.
Purchase limited express tickets before boarding.
A train staff may ask to see your ticket if you sit in a seat that is not printed on your ticket.